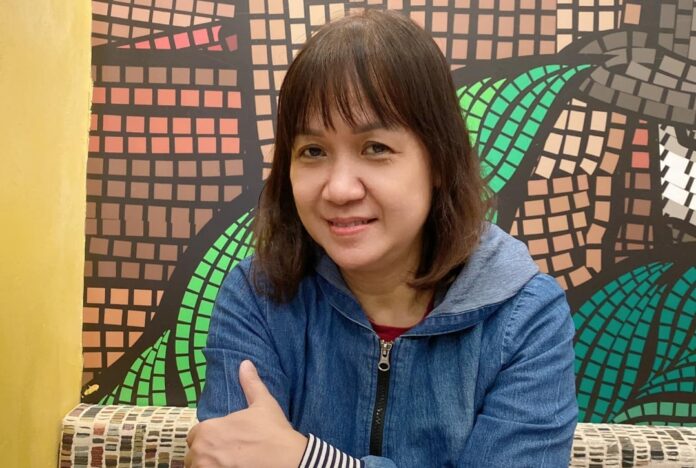 Επιμέλεια παρουσίασης: Εύα Πετροπούλου Λιανού
Her biography: Born in 1969 in Hanoi, Vietnam. Managing editor of BaRia-VungTau Literature and Art Magazine
Poetry books published:
The pain of leaves (Poetry, Writers' Association Publishing House 2006) –
There is another woman in me (Poetry, Writers' Association Publishing House, 2009)
The one who can see the soul (A collection of stories, Writers' Association Publishing House, 2011)
A proposal of last night (Volume of Poetry, Writers' Association Publishing House, 2012)
Six-eight poetry (Volume of Poetry, Writers' Association Publishing House, 2015)
Poetry and story book coming soon
Literary Awards:
Award of Green Age literature work of Tien Phong newspaper in 1993
Award of New World Magazine's Best Short Story in 1993
Award of Ba Ria-Vung Tau Province's Arts and Culture in the years 2000-2005, 2004-2009
Award of first prize for the best short story on the 2007
Award of good poetry Nguyen Tieu 2021 of Ho Chi Minh City Writers' Association
Poetry Prize "Humanism in the Southern Land" in 2021 of Ho Chi Minh City Writers' Association.
Her short story:
The elevator: (Translated from Vietnamese into English by Hanoi Female Translators)
He couldn't remember how hard he had to work to get a job in that skyscraper. He submitted all kinds of certificates, took many entrance exams, interviewed up and down, and when he thought he was desperate, then was accepted for a completely random reason: The director of human resources recognized his father were classmate in High School since they were in the poor countryside.
Every day in a hurry, he gets up early to squeeze in the bus on time, lines up to buy snacks at a cheap restaurant in the center, he has exactly 9 minutes to get into the elevator, pressing the button number 28 to the floor where he works. Then he tries again to shrink to the minimum of the packed crowd, enough for the overcrowding alarm not to sound a warning. The elevator soared away and then stopped in front of the default numbers.
The day flies by, morning and evening are so fast that he is not enough to be happy before was sad, and the sadness is never complete.
One day, the alarm clock broke, causing him to oversleep. Fasting for breakfast, he rushed to the company and was still late. No one jostled the elevator with him anymore, they took their seats. He pressed the button. The door was open, there was only one girl in the elevator. Glancing over her, he noticed an extraordinary, magical beauty as fragile as smoke. He dared to get acquainted:
– Do you work here too?
The girl smiled, not sure whether her pretty little head nodding or shaking.
– I am late. Anyway, my boss is angry but I am still happy because I am lucky to meet you.
– People are enslaved to their own fears.
He was a bit surprised. He has flirted with many girls but that kind of reply was probably the first time he met. He looked at her, amused by her mysterious charm both childish and womanly. The elevator stopped at number 28 and the doors opened. He stepped out and regretted not being able to ask her name and place of work.
Because he was late to work, so to please his boss, he came back quite late. When the stack of files was folded, tiny clusters of stars flashed in the dark purple cloud outside the building windows. It was quite quiet around, he walked towards the elevator and pressed the button. The door was opened. He was startled and delighted. The girl he'd met in the morning had been standing there ever since, still in a white dress, black coat and red bag, she looked at him and smiled. The door was closed, he did not miss the precious moment, expressed to her:
– Today is your lucky day. If only every day was as lucky as this, how much less boring your life would be.
– Boring? I had to pay a lot for this dullness?
She asked softly but quite intimately, as if they had been close friends.
For a moment, it reminded of his mother's hardships, his father's patience. Through so many hard gates, it seemed like a waste and then suddenly luck fell from the sky, he was able to creep into this building. He confessed:
– I could not understand myself either. Previously, I only wished when he graduated from university that can have a stable job in a luxurious and prestigious office. But then from morning to night working like a robot, I find all my emotions are fading…
He looked into her eyes, the elevator lit in shining magical, enchanting eyes. She laughed. The elevator stopped at the ground floor. He gave her way stepping forward, watched her figure from behind, more and more ecstatic by a beautiful body. Still followed her closely, he timidly suggested:
– Is your house far away? Will you have dinner with me and then come back?
She looked embarrassed and replied:
– My house is far away, I only go with you for a while and then have to return.
That was great for the first time, he told himself. They walked side by side, the street lights stretched on the street made him thinking of romantic scenes in a distant movie…
Suddenly he wanted to open up to her, something that had never happened before with the young lady he had just met.
– I am a poor province boy, my parents worked hard and amazingly saved hard all their lives, only let see me stepping into a high-rise building, opening the elevator door and taking a small part in there. And I can do it. But every time the elevator rushing to reach the predetermined number, I feel alone, terribly alone like a lost soul in this emotionless world…
He turned to look at her, afraid that the strange things he had just said would upset her, but her sympathetic listening made him very emotional, he boldly took her small hand, the hand that was unusually soft made him feel she was an artist. Waiting for him to finish speaking, she gently said:
– Only fools don't see death by their sides. They struggle to win momentary pleasures without realizing the solitude that slowly gnaw the mankind…
– Why didn't I meet you sooner, every day I suffocate in the sea of jostling people and never see you?
– I am afraid of them, afraid of the struggle in their order, the helpless fight in the elevator box that cannot exceed the number of prescribed people. Afraid of the default short path up and down. I don't go with them.
At this point, she hurriedly looked at her watch, and said to him:
– Oh, it's too late, I have to go home.
– When can I see you again?
He still hasn't let get off her hand. She looked up at him, a smile like the wind and clouds, vaguely mysterious, she said:
– When you are in the elevator alone…
Then she withdrew her hand very quickly, grabbed a taxi that had just arrived, sat on it and the car rushed into the crowded traffic of the prosperous city…
From that day on, he fell in love with that girl. He determined to pursue her to the end and, if possible, to marry her. After the day he met her, he found each day less boring, more worth living because he seemed to have found a soul mate. He deeply regretted not ask her name and address or phone number. He didn't understand why every time he met her, he kept catching up in magical philosophies and forgot about that essentials. He promised himself that the next time, he would find a way to know where she was, no matter where she lived on this earth.
But in the following days, whether he left early or late, crowded or sparse, was never seen her again. He was sad and wanted to cry and then laughed at himself for being stupid. Perhaps he was too sentimental to fall into a joke? Today he came back very late, hoping to meet her in the sparse elevator… But then he was disappointed. She had completely disappeared like a short dream.
He stepped out of the gate, the old security guard, who was preparing a simple dinner, looked up and said:
– You're late, are you busy?
– Uncle…
He hesitated for a moment and then asked:
– I'm waiting for the girl who I haven't asked her name, she seems to work in this building…
– Well, you're so romantic!
The security guard laughed.
– No, I'm not kidding, I hope you know something about her, please help me, I… love her!
The security guard peeped at him, not sure if he was touched or pitied, and asked in a low voice;
– Can you describe her figure?
– Her hair is long, her face is very pretty, especially her eyes are so magical.
The guard shook his head:
– If you describe it like that, I cannot help, every day there are hundreds of girls going in and out here, they are all beautiful, but I can't have time to see their eyes!
– And this detail
He was patient
– She never takes the elevator with many people, she goes alone and is often very late…
This time, the security guard paused for a moment and then asked:
– Is she wearing a white dress, a black coat, and a red bag?
– That's right, that's right
He said happily. The security guard looked around and whispered in his ear:
– Dear boy, you must have seen a ghost.
– What do you say?
He was annoyed, curious, and a little scared.
– A few years ago, a beautiful young girl exactly like the one you described came here to work, but then the pressure of work and the hustle of life made her depressed and stuck, so she always avoided around. One evening when everyone had left, she climbed up to the rooftop and threw herself down, wearing a white dress, a black coat, and carrying a red bag…
He was silent, quickly thanked the security guard, and then walked slowly along the street where he used to be with her. Surrounded by noisy traffic, busy people, but he thought it was a dead city, as if the humanity had come to an end, he kept walking and believed that the beautiful girl was not a ghost in the elevator. …