Σας παρουσιάζουμε την Lily Swarn
Επιμέλεια συνέντευξης: Εύα Πετροπούλου Λιανού
Biography: Lily Swarn, internationally acclaimed, multilingual poet, author, columnist ,gold medalist ,university colour holder, radio show host, Peace and Humanity Ambassador, writes different genres. A Trellis of Ecstasy, (Poetry )called a veritable delight by The Journal of Commonwealth literature in London. The Gypsy Trail (novel), launched by the Governor of Punjab, Lilies of the Valley,( essays) History on My Plate ( food) got rave reviews. Rippling Moonbeams her latest anthology was launched at Chandigarh International Literary festival and has recently been translated into Telugu. Yeh Na Thi Hamaari Qismat is her book of Urdu ghazals. Her latest book is A Passionate Affair with Trees. She won over 50 international and national awards like Reuel International Prize for Poetry Global Icon of Peace Sahitya Rattan Award,Gujarat Sahitya Akademi Award 2020 2021 Order of Shakespeare Medal, Cesar Vallejo award WE Diva of the world, A La Excelencia Literaria, 25 Women of Excellence. Her work can be read in numerous international anthologies and magazines like Atunispoetry in Belgium and Azahar in Spain. Lily's poetry has been translated into over 20 languages. Her latest book Rippling Moonbeams has been translated into Telugu. Her Urdu ghazals are put to music and she is a nominee for Lifetime Achievement Award and finalist for Global Culture Champion Award by SheInspires Awards, UK.
Recently awarded Women of Hearts award 2020-21 and "Best Indian Author Award  2021" for her book, History on my Plate,WOmen Empowered PoeTree Green Heart Award Rabindranath Tagore Literary Honour 2022, Golden Heart Award 2022, Kazi Nazrul Islam Award 2022 Bangladesh. Cesar Vellajo Award 2022 for peace and social justice, Ambassador of Culture and Peace and Swarna Lekhini Golden Pen Award. Chirag e Dair Award by Women Empowered group 2022. Lily is the recipient of Chandigarh Sahitya Akademi Award for Best Poetry Book for Rippling Moonbeams. Invited as an honourable guest in poetry meets and literary conferences in different countries, Lily believes it is the blessings of her young son who passed away a few years ago that help her write.
Please share your thoughts about the  future of literature. I firmly believe that the written word is never going to die. The tradition of orally passing down of folk lores and folk songs has always been there. Now, with the potent impact of Internet the audio and video of literary works have a far wider impact. Authors would never have had such a titanic reach without the aid of social media and emails. Flaubert Tolstoy are timeless but our generation is transitional.We are being seen and heard on Twitter, Facebook and Instagram. Our mobile phones keep us connected instantaneously. Thoughts and words are being communicated in the flash of an eye. Writers always share a timeless piece of art and I'm optimistic that what has seemed banal to others will still appear mysterious to authors. We will safeguard literature just as it was since Homer's time.
When did u start writing? I started writing surreptitiously under staircases and on terraces since I was very young. My first prize for a short story came when I was only about 11 years old. Later I edited my college magazine and recited self composed poetry in the university as well as youth festivals. This led to writing columns and middles for national newspapers. I scribbled on any paper, margins of books and last pages of note books. The written word fascinated me. 
The Good and the Bad. Who is winning nowadays? It's not the question of moral policing or being judgemental. Each one of us is made up of varying shades of grey. Generally if it is morally obligatory then it is supposedly " good". We who live in the east are firm believers in the power of destiny or "Qismat". We believe that past "karma" or good and bad deeds reflect on our present lives too. Therefore what seems unjust to some seems acceptable to others. There is no formula which makes one a sure shot winner.
How many books have you written? And where can we find your books? I have written seven books till now. There are 3 poetry anthologies in English titled A Trellis of Ecstasy Rippling Moonbeams,and A Passionate Affair with Trees. There is one novel titled The Gypsy Trail- Travels and Travails of an Army Wife. Next is a book of essays called Lilies of the Valley. One book is about the origin and history of food titled History on my Plate. A new bend in my literary journey is a book of Urdu ghazals Yeh Na Thi Hamaari Qismat. All of them are available on Amazon India.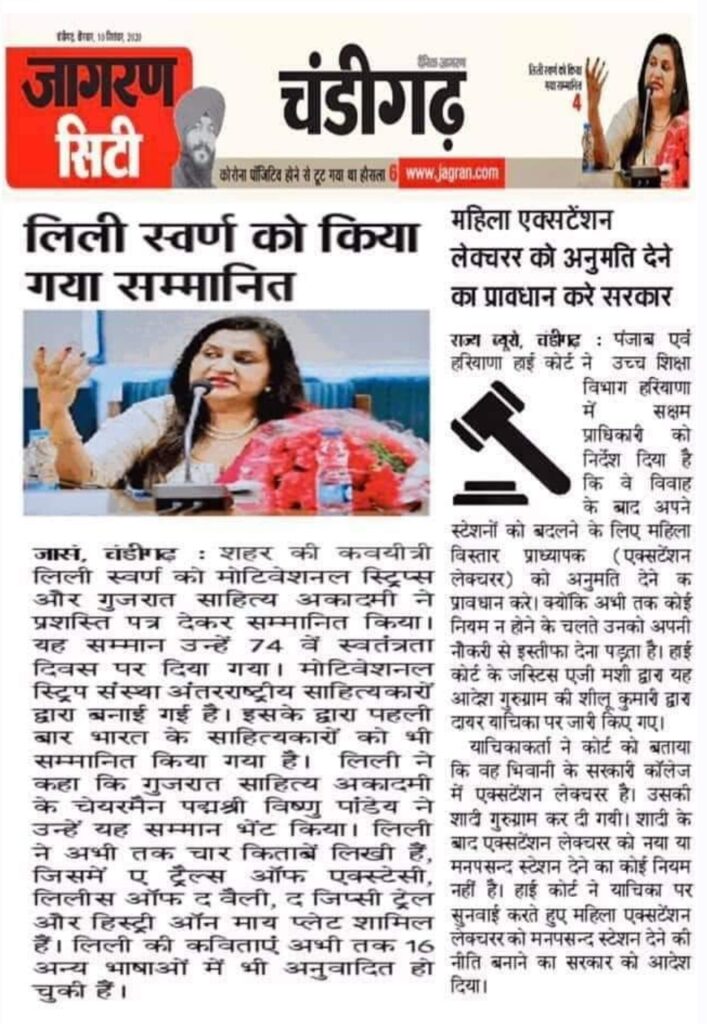 The book. E book or Hardcover book. What will be the future? E Book seems to be the apparent future but I swear by the romance and enigma of hardcover books. It might wrench the hearts of book lovers to give up shelves full of books for a single slab of plastic. E readers can store thousands of books in a single device and have flexibility of font style and size but illustrations are not as effective and eyes get strained. One misses the joy of holding a book in one's hand. It won't be so easy to kill a printed book. The fade out will take a long time hopefully.
A wish for 2023. An end to wars so that world peace and mutual love are the only mantra. I wish there are no war orphans, war widows and refugees.
A phrase from your book. O thou sepia, sienna, rusty maple rugs 
Priceless in your martyred avatars
Waylaying me in my nature rambles
Asking me the meaning of your ephemeral lives