Interview to Eva Petropoulou Lianou 
Do you remember writing your first words of poetry? When was it? Please tell us more about it. Yes, I remember it well, I was studying in the fifth year of primary school and I am 10 years old, I cannot describe my condition, I was shaking and feeling as if I was flying It was in the evening, I read that attempt dozens of times And I also read it to my mother and my brothers, and I spent my night waiting for the morning, I went to school and read that attempt to my young colleagues, and when we entered the class, our teacher told us that he took that attempt from me and read it and thanked me. Since that day, writing has turned into an entertaining game for me because I was a failure in the rest of the game. I was reading by great poets and trying to imitate them at that stage, and little by little the game turned into trouble, and when I grew up, my game became, it is no longer entertaining, but rather a responsibility, It became a dangerous game, and this game became accompanied by painful questions: How do I write and why do I write? Then the questions increased: writing came to me, a journey of endless questions, so I became questionable about language, poetry, man and existence,, my game became painful after it was entertaining. Yes, I have grown up now and the questions have changed and the taste of the game has changed, but that child still resides in me strongly, I still feel like a child when I hold my pen to write, but this child no longer plays his entertaining game, but feels that his beautiful things are broken every day and that he writes her elegies. He became a child who lives in a village in Tunisia, a man the world knows and who reads his poems and no longer writes his simple desires, but rather writes the obsessions of man.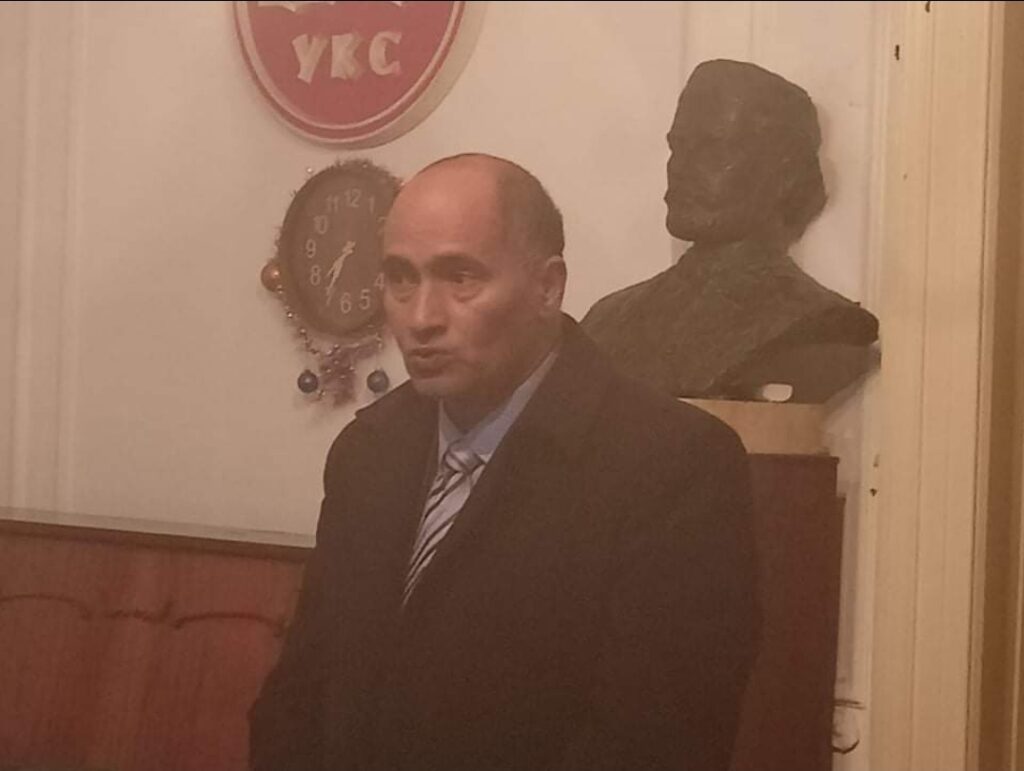 Did you have any early influences/inspirations? My father made me a poet. He was a simple employee, but he was fond of reading. He used to go to the old book markets in Tunis, and every month he bought a large number of books, and he liked poetry. He spends the night with books, and my father was nice to me. He used to talk to me about those books, so I was moved by him a lot, and I found me accepting to read those books when I learned to read, then my father passed away when I was ten years old and he left me a library that was my whole life. By imitating old poets, then I began writing and publishing in newspapers, and when I moved to the university, I found professors who supported me a lot and encouraged me and expanded my knowledge and read international literature. Then my experience expanded. Of course, I am still expanding my experience and reading a lot.
Does your background / heritage influence your writing? Please explain. Certainly, because I believe that the poet is the son of the earth and not the son of heaven, as the romantic poets see, I am Tunisian, and this means that I grew up in a Mediterranean country, and this is very important, because all the civilizations of the Mediterranean passed through Tunisia, the history of my homeland is the history of the civilizations of the Mediterranean, from Berbers and Finites, Romans and Wendals, Arabs, Spaniards, Turks and French, this is in addition to contact with other Mediterranean civilizations such as the Greek, Egyptian and other civilizations, and of course all these civilizations did not pass without leaving anything, but rather affected our culture, customs and traditions As Tunisians, we are the result of those successive civilizations, so we are open to all cultures and all civilizations, and this openness helped me to be open to other cultures and civilizations and to strive to embody cultural rapprochement between peoples. As for my intellectual background, I believe in freedom and human rights In my youth I struggled for freedom and democracy, I believe in people and culture and I do not care much about politics because politics and economics are factors that divide humanity
The dream of establishing a human society from a political and economic perspective has become almost impossible. There is nothing left for humanity but cultural discourse, especially poetry. Topics such as peace and love and the rejection of hate and others are human topics that poets are still dealing with. Poetry is the school of life, and it is able to reduce the gap between many of the paradoxes of the world, and to give human humanity a sublime and supreme position. This is because poetry throughout its history glorifies human values and confronts the inferior and vulgar, and these are fundamental challenges that poets today will not face except with greater depth in order to consolidate values and reveal the contradictions of a globalized world. Poetry, by its nature, tends to be cosmic and humanistic, and perhaps the centrality of language in human life is sufficient alone to make him live in a poetic way in existence through existence, as the great German poet Friedrich Hölderlin confirms. This makes us look in poetry for pleasure and beauty, and the poet fascinates us with his intuition and talent, but this view may be simplistic in the eyes of a number of critics. As a number of thinkers based their ideas on poetic experiences, such as what was done by the German philosopher Martin Heidegger or the poet Friedrich Hölderlin himself. Today, man needs a poet who embraces the human horizon, and looks forward to the future in writing and rewriting. This is my background, and with this I am present in the world
What subjects mostly inspires you to write? Why? Poetry is not just an artistic practice, it is a form of residence in the universe. "I write until I don't die." Writing is a daily practice that resists nothingness and annihilation. In my opinion, the poet's job is to write a dream and teach people how to dream, and if dream does not exist, everything is lost, love and joy are transformed, and life turns Humanity to a dark area, because reality has many coercions and dream is the only way that can make us resist darkness, the poet is a dreamer by nature,, the poet seeks to a world of values, love, beauty and dream, but he looks around it and sees only ruin and calls for killing and hatred and becomes disappointed and realizes the absurdity of things around him, rejects everything, rejects the systems and he announces the revolution. The poet seeks to restore what the other destroyed, which is a call to love to peace. I try to delve far into the details of the human self to monitor its breakdowns, pain and victories. There are details from her life that cannot be the subject of the rest of the speeches. Poetry alone can understand it. I meditated a lot on myself, and I realized that I am a human being and that I share with the other those feelings and those details, and from here I realized that poetry is a universal art, I write for myself and for a person, my job is to give people dream and hope and to be like a conscience, and the voice of the soul in them.
Do you remember your first ever published work? Where, what was it? When? Tell me how you felt seeing your words in print. I published my first work when I was a student, as the Tunisian newspaper Al-Shorouk published a poem for me in its literary supplement that was published every Tuesday. In fact, it was a great event in my life, and I saw my name being published for the first time in a newspaper. It was a great joy, and it was a great pride, and after that I continued publishing in Tunisian newspapers and magazines, and when I moved to university, I was well known in the Tunisian poetic arena. And I belonged to the Tunisian Writers Union, which was publishing a collective book for its members, and I published some of my poems in those books, and during my university studies I worked in the press. I supervised some literary supplements, as I became interested in radio in a program concerned with literature, and when I graduated from university and worked, I published my first book, "Travel in the Language Classes." Of course, my joy was not great because I used to publish, and that book was a great success. Two thousand copies were printed and carried out in less than a month, and after that about 26 books were published in Tunisia, and I have written more than 80 books now around the world, some of them are private production and some are jointly with other writers. In general, the publication of a book remains an important event for me because it is books that document the creative process and it is the impact that the poet leaves.
What publication are you most proud to have your work published in, why? I hold myself accountable before others judge me, and I am hard on myself before others are hard on me, meaning I do not publish everything, I write and leave what I wrote for a period of time and return to it with a conscious critical reading, I employ my experience as a professor of modern literature specializing in modern poetry in dealing with the text critically. If I see that what I wrote represents an addition to my experience as a poet, I keep it, and if I see that it is a weak text or less than the texts I wrote previously, I delete it, and with this all the books I issued represent a stage of My experience in writing, and every book is a creative experience that represents a stage of that experience. Therefore, I do not prefer a book over a book. Rather, I consider every book as the result of diligence, work and perseverance, and represents an artistic experience at some point.
As for the other books, by which I mean translations and ontologies, I consider my last work the most important candles of hope, because it represented a great challenge for me. It is not easy to gather a thousand poets from the world, who are good poets and have experiences and have published books, to gather them in one book. This book embodied my dream of collecting world poets. I collected a thousand poets from 201 countries. It is a great achievement, and what made me most happy is the seriousness with which the poets dealt with my work. Contemporary
Do you have a favourite genre of poetry? Why? Tell me more about it. Yes, in recent years I returned to writing the poetic epic and wrote The Tunisian Odyssey, a long poem published in 126 pages, during which I tried to capture the human dimension in the Tunisian revolution that took place in 2011, especially since this event was the cause of several revolutions in the world and In the Arab world, and also this event is not without a tragic, dramatic dimension that we are living in now in Tunisia, as I started writing some time ago the Epic of Gilgamesh the Tunisian, which is the epic of the modern man. The fate of the contemporary human being, all human beings, not just the Tunisian human being.
What projects are you working on and why? I have many literary projects, many books will be published for me with a number of world poets in the form of poetic duos, besides, I have agreed with a publisher in Europe who will publish 6 books for me in a number of European countries
I have many books awaiting publication, and I will continue to translate and destroy world literature, as I will continue to dream of a human society free of racism and hatred, a world full of love and dream
A phrase that you like and inspired you. There is a French proverb that says, "If we want, we can." This phrase inspired me a lot. It taught me that nothing is impossible, and that we can do anything as long as we have the will. It is a saying that taught me challenge, perseverance, and action. And this phrase I try to instill in my students, and it can be an incentive for a person to advance his life.