PANDORA'S RED BOX 100cmx120cm 03/2019 ©
The painting illustrates a surreal imagery where, if seen from a distance, the captivating, gentle face of a female appears to draw the viewer closer to it. A surrounding black stripe dotted
in gold and silver sheathes the image as if to protect it from a band of hurrying black silhouettes anxious to enter the foray. At close inspection something magical comes to view; the face is made up of hundreds of dark grey humanoid figures rushing everywhere in a world of their own, but going nowhere. They chat with one another and hasten about in harmony. Graceful performers with stretched out arms dance with joy, while others stride with arrogance and never want to slow down. Then there are those that cling to power with brilliant red boxes full of secrets, and, if unleashed, could trigger startling results, offering hope for some or anguish for others! One can hide a stone among stones and man among men but not so in
Pandora's Red Box where there is no escape or a place to hide. Andreas C Chrysafis
At what age did you start painting? I was always very observant of my surroundings and have started painting at a very young age, which often got me into trouble with other kids at school who refused to see what I could see.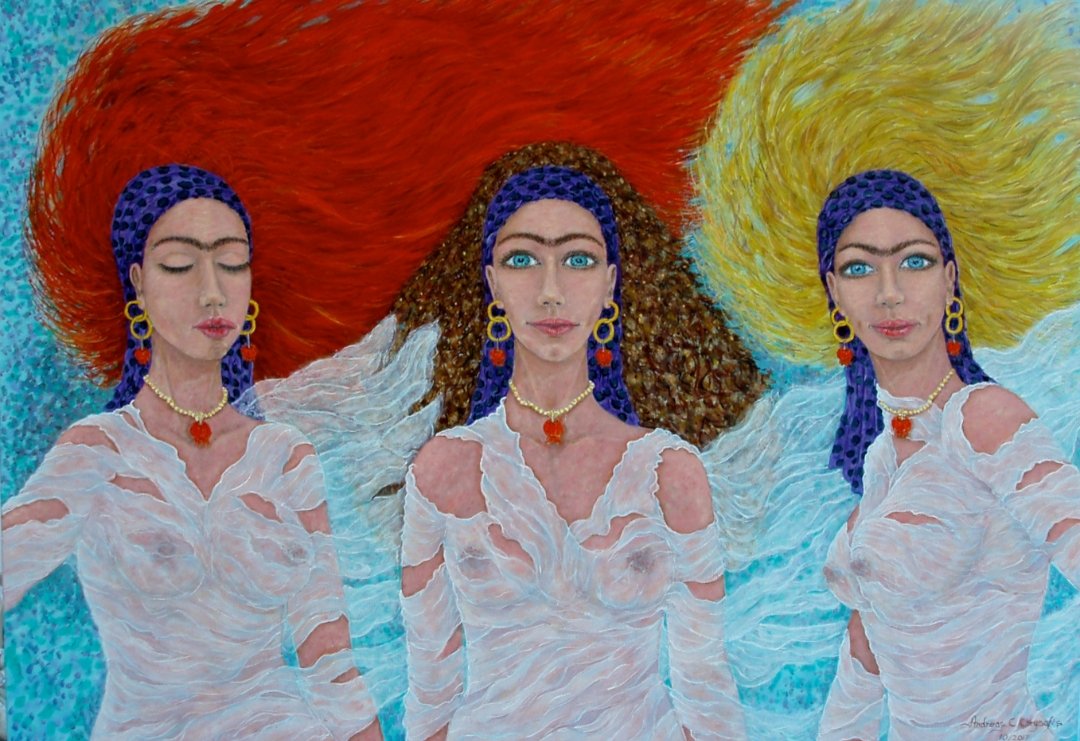 MONOBROW MUSES 70 x 100cm 10/2017 ©
Monobrow Muses displays a lively painting of three beautiful girls and skimpily wrapped in flawing gossamer silk. They share a unique
feature prized by many cultures throughout history – monobrows! Priced in Ancient Greek and Roman cultures, they were considered beautiful and desirable features worn by most intelligent and lust-after women. Women often donned false monobrows to enhance their
looks by using dyed goat's hair attached with tree resin. The Old Testament considered removing the hairs or making boldness between the eyes was a sin. Monobrow Muses draws the viewers into a mystical and surreal world of beauty where those girls are seemingly about to speak. Andreas C Chrysafis
Is someone born an artist or do they become one? Art is a God-given gift that requires nurturing. Just like the mind and music that excel with the right training and practice so is art; it demands dedication and a strong imagination to create.Art nourishes the spirit and inspires artists to see things the way they are; and the way they are not! Inspiration through art serves as a measure and it's a mirror image of a civilized society. It helps to propel nations to greater heights and lack of it truly oppresses the mind.
What word defines you as an artist? Inspired.

TROODOS ICE-SKATERS' CLUB 76 x 101cm 02/2012 ©
The unique costumes of the
Troodos Ice Skaters' Club reveals the notion that cherished traditions are hard to abandon. The group of young skaters dressed in daring but traditional garments portray a beautiful oil painting that triggers smiles in those that view this inspiring artwork of an unlikely situation.
Do you feel "inspired" before you create? Yes. I plan the painting in my mind well beforehand for days sometimes and only then do I start to put the ideas on canvas.
How would you describe yourself as an Artist? Social Artist
What are your future plans? To publish my second Coffee Table Art Book titled:
"Andreas C Chrysafis Art" – Each Painting Tells a Story" and exhibit my artwork in reputable galleries.
COFFEE TABLE ART BOOK
https://www.amazon.com/ANDREAS-CHRYSAFIS-ART-PAINTING-ARTWORK/dp/1904578047

GIRL in RED 70x 100cm 03/2015 ©
This surreal painting of a Girl in Red represents the fusion between the old and the new. The startling appearance of a stunning looking sexy young girl dressed in red, walks and glides like a breath of fresh air to invigorate everyone's mundane lives – if only for a brief moment at least
ANDREAS C CHRYSAFIS
SHORT BIOGRAPHY
Author / Artist / Writer
Andreas was born in Cyprus and hosts a British and Canadian citizenship.
He is a prolific artist, a published author and a writer of over four hundred articles and a recognized Saatchi artist. His vivid colourful paintings touch the human soul and certainly spark pleasure and marvel but also generate mind stimulation. Many of his paintings spur inquisitiveness, interpretation and are sold to collectors worldwide.
He held a number of solo exhibitions and his inspiring work has been attracting attention in the art world but also the press where many of his paintings have been published in magazines and newspapers. One of his paintings hangs permanently at the prestigious Cyprus National Art Museum in Nicosia and "N'oublie Pas Paris" in memory of the Bataclan atrocity it's displayed at the French Embassy Institute.
His five-week solo exhibition "Chrysafis Art -2018" with over forty paintings on display was recently held at Paphos Municipal Art Gallery.
At the age of twelve, Andreas moved to the UK where he finished his studies at Holland Park Comprehensive in London. While at school, he was accepted to enter the esteemed Royal Academy of Music in London. Those experiences of tender years living alone in rooming houses helped to develop his character for what he is today. He is an ex-Associate Member of the Chartered Society of Designers (ABID) by Royal Charter and he has practiced his profession as an architectural designer for most of his life. As a recognized international author he has written and published five books, press articles including his beautiful hardcover Coffee Table Art Book "Andreas C Chrysafis Art – Volume One". His historical spellbinding novels: "Porphyra in Purple", "Andartes" and "Aphrodite's Sacred Virgins" including his political analysis "Who Shall Govern Cyprus – Brussels or Nicosia?" are available from bookshops and online providers such as Amazon books and Kindle. Without a doubt he's a complex man with an inquisitive mind that always aims for excellence in everything he does. He is credited with a UK Patent, a thinker, an environmentalist and an advocate for Human Rights, Equality and Rule of Law and a strong advocate and outspoken campaigner for Human Rights, and Equality.

TEARS for KERYNEIA 70x100cm 01/2017 ©
Tears for Kerynia it's an emotional painting and a tribute to a beautiful ancient Greek city of Cyprus occupied for the past 40 and more years by a Turkish military invasion. It remains under bondage but the beauty of its ancient castle, its waterfront quaint harbour, Christian monasteries and a three thousand year old "The Kyrenia Ship", remain as evidence of it's glorious Hellenic past for all to see and admire. It is traditionally accepted that the city-kingdom of Keryneia was founded by Achaean Hellenes from the Peloponnese after the Trojan War and has been populated since ca. 6000-3000 BC.
As a Canadian / British citizen, he lived most of his adult life in Vancouver, British Columbia and London as well as Cyprus. Married to Eva he now spends most of his time in the UK and his studio in Cyprus. He continues writing novels and painting works of art.
ACC October/2018
MOTTO IN LIFE
"I think, therefore I speak out; I write because I care; I care for justice because it's right and therefore because it's right, I refuse to be silenced in the face of adversity, injustice and calamity suffered by those less fortunate people living at the fringes of society…for truth and justice, it's indestructible and must be told and be made available to all equally unconditionally."